Only one thing is better than stand up paddle boarding: stand up paddle boarding with the best SUP app on the digital marketplace.
Did you think paddle boarding is as simple as standing on your board and paddling with proper technique? Well, you're kind of right. However, the experienced paddle boarder knows that there's more to it than that.
Why Use Apps?
Paddle boarding can be dangerous, and after all, it is not the 1960s anymore. So why not use apps to ensure you know what you're getting into when you take to the water?
Not only can the best SUP apps help you find fun and exciting new areas to explore on the water, but they can also inform you when conditions are optimal.
Come wind or high water, you'll always know exactly what to expect. This also helps you plan out your excursions in advance without having to cancel your plans last minute.
Additionally, SUP apps are a great way of connecting with other people who also enjoy stand up paddle boarding. Entire communities of people sharing their experiences and knowledge can be accessed with the right SUP app.
Finally, some SUP apps let you track your path across the water and record your journey in other ways.
The 12 Best SUP Apps
Here are seven diverse SUP apps to take your paddle boarding experience to the next level.
Windy
Windy is a SUP app that allows you to track weather conditions both in real-time and future projections
Have you ever been amped up for a fun day of paddle boarding only to discover that the water is too choppy, the wind is too strong, or the temperature is too hot? That ends now with the Windy SUP app.
Windy is a professional and highly-rated app that is also extremely customizable with various color palettes and weather layers. Use it to track weather up to five days in advance, including waves.
Not only that, Windy has access to webcams all over the world, letting you see with your own eyes what conditions are like in popular paddle boarding spots right this moment.
Runtastic
Runtastic is a fitness app by Adidas that also serves as a useful SUP app. Just add paddle boarding as your activity and easily track fitness statistics such as duration, calories burned, and distance traveled.
This app uses GPS to map your routes so that you can easily see where you've been, where you are, and where you're heading.
If paddle boarding only makes up one slice of your fitness pie then you'll love this app for the ability to track and record your other activities as well.
Lastly, you can easily share details about your paddle boarding ventures straight from the app to your social media.
This app is available for both Apple and Android devices.
Go Paddling
For a SUP app with a massive amount of paddle boarding locations, it's hard to beat Go Paddling. This SUP app boasts detailed information about over 25,000 paddle boarding areas, including fees and safety guidelines.
It also uses Google Maps to provide quick and easy directions and traffic information in seconds.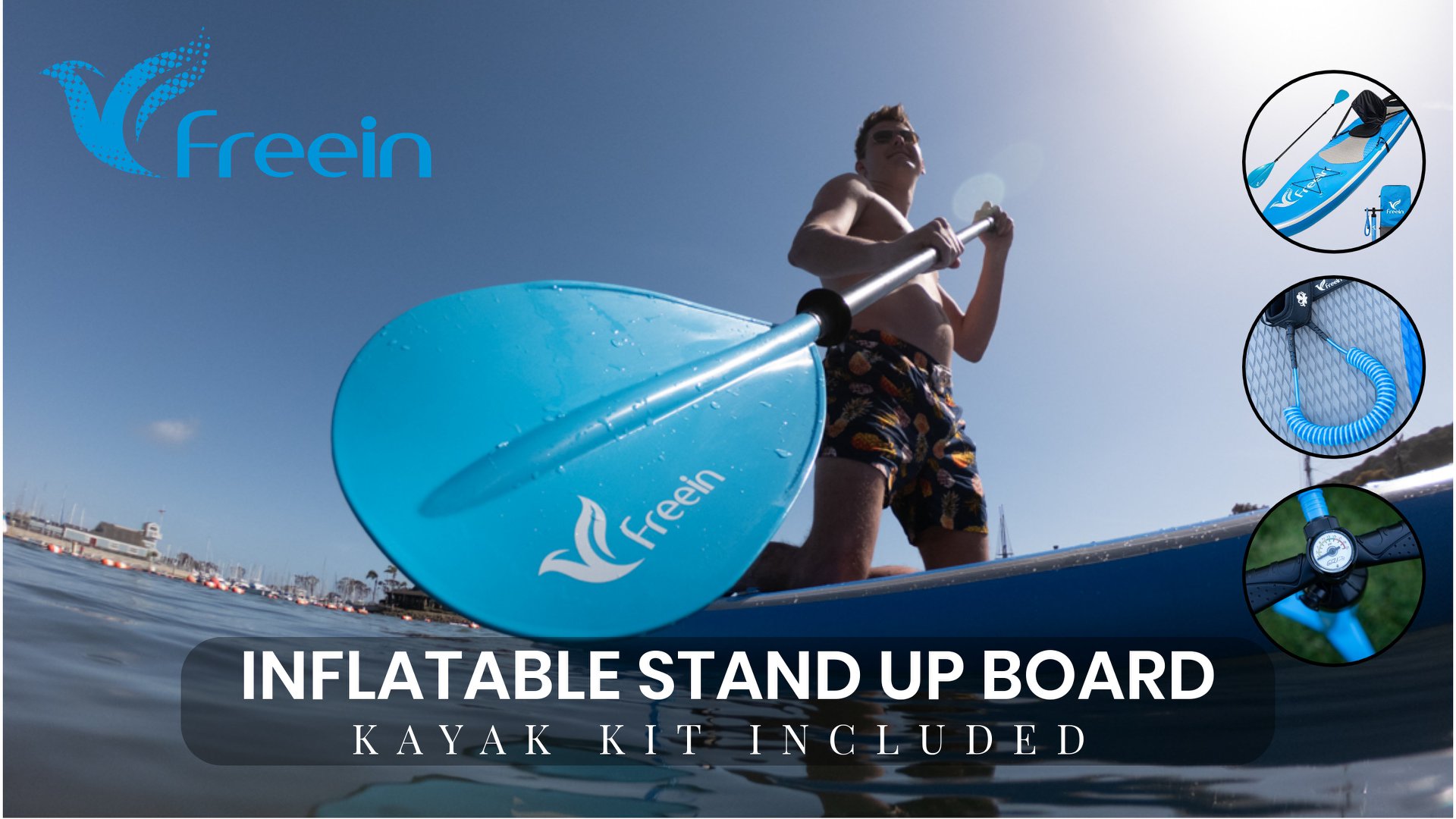 Motionize SUP
Motionize SUP is a SUP app that works with the Motionize SUPerior sensor to give you feedback about your paddle strokes.
Not only does this SUP app give you real-time, hands-free audio feedback, but it also tracks your performance so you can see how you are improving over time.
Motionize SUP can help you get the most with every stroke by measuring entry angle and distance per stroke.
This app is available on both iPhone and Android devices.
Be Ready
Be Ready is a fantastic SUP app that every paddle boarder should have in case of an emergency. It provides detailed and easily understood information on how to deal with all kinds of situations.
This app is sponsored by Red Cross, so you know it is trustworthy. You may not need it for a long time, but you will be happy you have it when you do.
This app is only available on iPhone.
Recommended Read: New to SUP? Check Out These Tips on Paddleboarding
Paddle Ready
Paddle Ready is a SUP app designed by the Affordable Care act for paddlers. Use it for a variety of niche tasks that you may not be able to find as easily anywhere else.
For example, you can use Paddle Ready to predict when to track the tides and see when river levels will be low or high. Since these variables can be dangerous and may lead to damaging your paddle board, it's extremely useful information to have.
Another great feature of Paddle Ready is the ability to an ACA certified paddle board instructor in your vicinity. You can also download gear checklists and other documents to ensure that you are always prepared.
Paddle Monster
Paddle Monster is a useful SUP app designed by Larry Cain, an Olympic Canoeist from Canada. His app is perfect for paddle-based watersports such as canoeing and paddle boarding.
Think of Paddle Monster as a social media app for watersports. You can join SUP communities and find other people who love to paddle board. Share your progress and adventures with likeminded individuals.
The app costs $10 a month, and you can also find personal training and paddle boarding apparel for a cost.
Paddle Monster is only available on iPhone.
RiverApp
Like Paddling Maps, RiverApp is a SUP app that provides information about hazards and water levels along the courses of rivers. In fact, River APP has detailed information on over 8,900 rivers through North America.
What's more, users including yourself can report dangerous conditions and other issues in a location to share with others, so the database is constantly growing.
Another great Riverapp feature is the ability to get automated notifications when the water level of a river becomes too high or low.
Maps.me
Maps.me is a must-have SUP app if you plan on paddle boarding in an area where there is the slightest chance of losing reception.
This useful SUP app updates daily and contains offline maps of the entire world. It even functions as a navigational system.
That means even when your signal is at no bars, you'll still know where you're heading.
You won't find as much information on here as you would on google maps; However, what you will find are trails, campsites, grocery stores, and any services useful for travelers.
GeoSUP
GeoSUP is a useful SUP app for tracking and comparing your performance to other paddle boarders.
This app records your time spent on the water and provides you with detailed statistics, including top speed and total distance traveled.
You can also take photos and share your trips to the user database, and log hazards such as rocks, reefs, boats, and more.
Best of all, GeoSUP is a fantastic app for finding popular routes and planning trips because you can see what other users have shared.
This app is only available on the iPhone app store.
Recommended Read: The 12 Best Inflatable SUP Boards
Paddler Logger
Paddle Logger is a SUP app that is very similar to GeoSUP, though without the same nifty social networking features. However, Paddle Logger has its own strengths which make it worth checking out.
Like GeoSUP, Paddle Logger records your trips and lets you view detailed information about your performance. Paddle Logger is a bit more detailed in this regard, with stats like average speed and pace.
Those who paddle board very frequently will enjoy the fact that you can organize your trips into different folders. You can also easily add photos to each trip, and view the path you took.
Paddle Logger is an app that many will like for its simple and easy interface.
This app is only available on the iPhone app store.
Paddling Magazine
Stay up to date on paddle boarding news with the Paddling Magazine SUP app. Paddling Magazine has everything you need to know about new gear and the most popular paddle boarding locations.
Plus, Paddling Magazine is filled with breathtaking photos and articles about stand up paddle boarding and other paddle-based watersports.
Paddle Out
Now that you have all the paddle boarding apps you could ever possibly want, you're ready to take to the water.
What are your favorite SUP apps on the iPhone and Android app stores? Let us know in the comments below!