Kayak fishing is, simply put, fishing from a kayak. Recently, the sport of fishing has taken to the fishing kayak as stealthy means of approaching easily spooked fish, like flounder and cobia. In addition to being a quiet and inconspicuous way to sneak up of fish, kayak fishing is also less invasive to the local flora and fauna than a gas propelled watercraft.
Plus, many kayaks now cater to the fisherman with products like specially designed hatches, built-in coolers, and rod holders. High-end models may even come with GPS receivers and equipment mounts, while others feature trolleys, caddies and even anchors and special nighttime running lights.
The Cadillac of Fishing Boats is the Fishing Kayak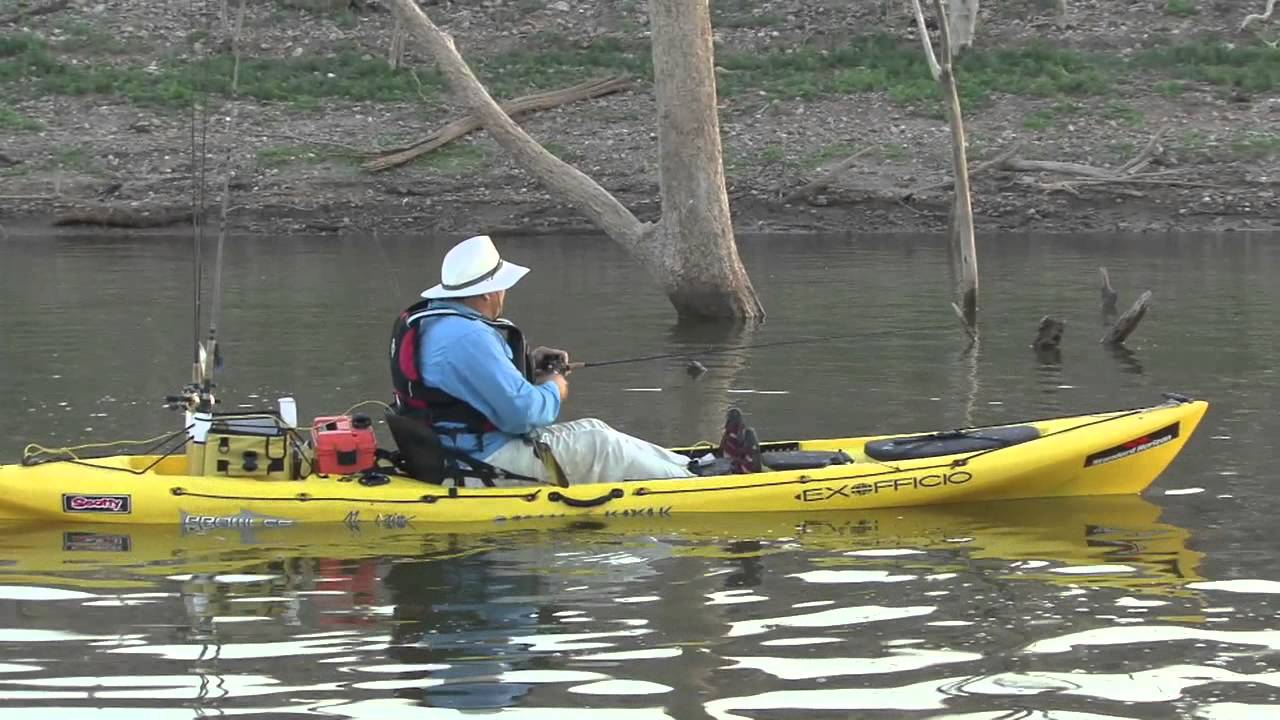 Fishing kayaks are often longer and broader than their lake or river counterparts, and this increased stability often allows the angler to stand up and fish on the kayak, while the increased space inside the hulls can be used to store fishing gear and kayak accessories, like rods, batteries, bait, or an anchor.
Outriggers and kayak caddies are also options in increasing stability and storage, and some anglers have even reported fly fishing from their kayaks or using mobile fish-finding equipment in the expanded deck at the front of the kayak.
There is even a new generation of twin-hull kayaks called catamaran kayaks and pedal-driven kayaks that leave your hands free to reel in the catch of the day. Plus, fishing kayaks often offer the best seat in the house, with their selection of ergonomically designed mesh and foam folding or molded seats.
Fishing Gear and Kayak Accessories
Plus, we didn't even mention accessories. Fishing kayaks don't necessarily need any help when it comes to luring in and hooking anglers, but that doesn't stop manufacturers from pumping out kayak accessories by the hundreds. Just check out this list of popular kayak fishing accessories that we found online.
Kayak Paddle Leash – This kayak paddle leash is made of super-stretchy nylon and rubber and will attach your kayak paddle to your kayak to prevent is from escaping when you are not looking. Know that your paddle with always be at your side when you have other things to worry about – like the big one that got away.
Scotty Bait Board – This 455 Bait Board by Scotty Paddle Sports keeps all of your gear close and easily accessible. You can keep knives, pliers, lures and even drink holders at arms reach. Easily adjust height and position with this no-mount bait board.
Yak-gear Outriggers – This set of Yak-Gear Outriggers can be attached to any kayak or canoe to provide extra stability and buoyancy. When you are loaded up and ready for a day on the water in your fishing kayak, the last thing you want it to feel weighed down. The foldable outriggers can be put up for storage or moving through tight spots and easily deploy when you arrive at your destination.
Hydro Kaddy – The Hydro Kaddy is molded plastic floatation tow-along that provides additional storage for fishing adventures. Place items on top or fill with ice and your favorite beverages for a floatable cooler that will hold up to 50 pounds.
 Railblaza Hunting Mounts – Simply screw the RailMount together onto your rail or outrigger and you have instant firepower from the water. All RailMounts come complete with adapters, rubber grips, self-adhesive grip tape and the necessary stainless-steel mounting screws. It has never been easier to set up a mobile duck blind.
Best Kayak Anchor – This foldable three-pound anchor will stow away in any small space for when you need to hold you steady on that perfect fishing spot. Made of galvanized steel, it is rust-resistant and comes with a 40-foot long marine-grade anchor line and convenient floatable buoy ball to mark its exact location.
Kayak Fishing is all about the Gadget(s)
And that list is just the tip of the iceberg. We haven't even talked about the rod holders, LED kayak lights, or safety kits. Of course, there are some who would maintain that all you really need on your fishing kayak is bait, a reel, and a sharp knife.
A sharp knife is a great multi-tasker, and it can be used as a digging tool, a hunting tools, a cutting tool, and a gathering tool. You can use it to gather plants and maritime animal, firewood, create shelter elements, and more. You can also fashion patches and tunicates, if needed, using a sharp knife.
You can get straight edge, serrated, single form or folding knife, and blades come in a variety of lengths, and steel types, including high-carbon steel and stainless. We suggest carrying more than one and consider taking along something larger like a bowie knife or a machete for lengthier stays.
A serrated knife, in particular, is critical on the water, as it can cut through fishing lines, and hold up to the rigors of the aquatic lifestyle.
Fishing Kayak Wrap-up
But whatever gadgets you buy, make sure to store them properly, because, as site estimates, unless you live on the water even the most avid fisherman stores his boat about 90 percent of the time.
Nevertheless, we with leave you with one of the most useful gadgets we found to consider as you are hauling your boat out of the water or storing it for the season. The C-TUG Kayak Kart is designed to make your life a little easier by giving your boat the wheels it need to get to your car and to the water with ease.
Crafted with corrosion resistant materials, it is resistant to the effects of saltwater and UV light, and the rubberized pads can be adjusted to fit a river kayak, sea kayak, or fishing kayak. Capable of transporting up to 300 pounds the tough, all-terrain rubber wheels are puncture resistant and won't dry out or crack from traveling in the sand.
Moreover, your new catamaran fishing kayak won't get scuffed up when you drag it to your car, which is probably what we should have led with.
Last update on 2023-02-08 at 09:52 / Affiliate links / Images from Amazon Product Advertising API